Peaks portfolios make investing safer and easier
Who says building your wealth has to be complicated? Now you can invest in sustainable index funds the easy way, with four portfolios from Peaks. We make investing accessible and cost-effective for everyone. Automatically deposit your chosen amount each week or month and we take care of the rest.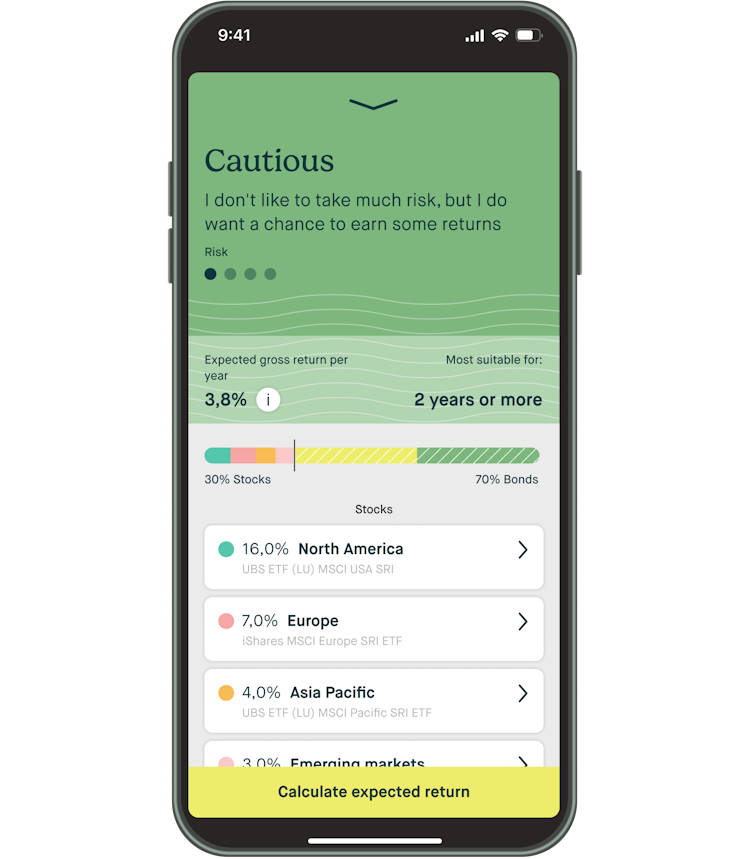 Your advantages with Peaks
Four portfolios
Peaks is the easy, responsible way to build your wealth. Simply choose one of our four portfolios and start investing in the best sustainable index funds. Our ETF portfolios spread your investments across different stocks and bonds worldwide. This opens you up to far more opportunities than investing in one company alone. It also lowers your risk and ensures a higher return on your investment in the long run, compared with a savings account.
Invest in ETFs
When you invest with Peaks, you're investing in a portfolio made up of index funds, also known as exchange-traded funds or ETFs. These are baskets filled with dozens to hundreds of securities (stocks and bonds) that follow the price of a specific index. Research by the independent financial services provider Morningstar shows that index investing delivers higher returns on average over the longer term than investing in actively managed funds.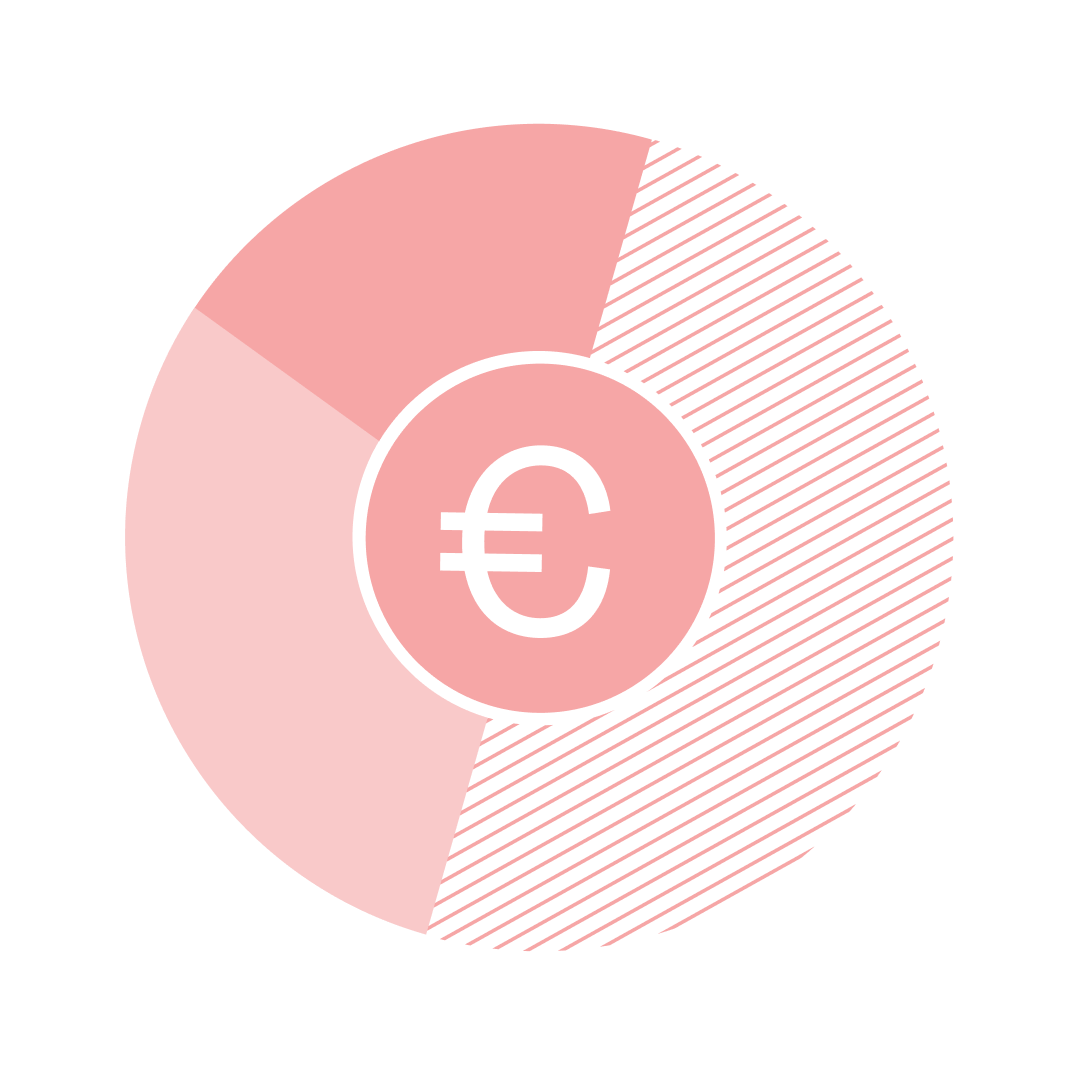 Invest your way
Peaks lets you invest in ETFs with any amount you choose—even your spare change. Our portfolios consist of six sustainable index funds, spreading your investments across global stock and bond markets. This ensures that your assets are less sensitive to fluctuations in the stock market.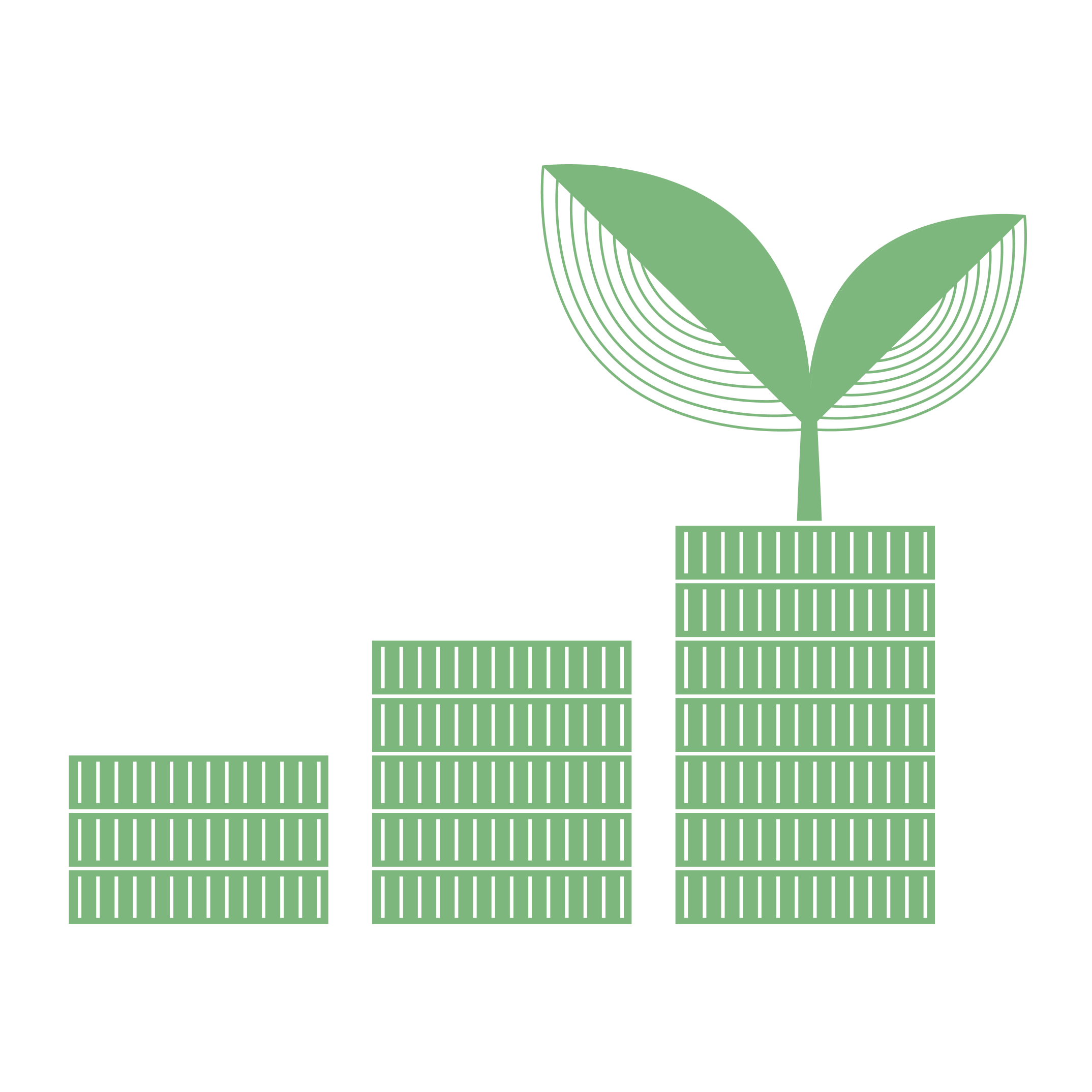 Deposit automatically
With Peaks, you can automatically deposit money into your investment account every week or month. This lets you build up assets and spread your risk by investing at different times. Plus, your dividends are automatically reinvested, and you can easily rebalance your portfolio.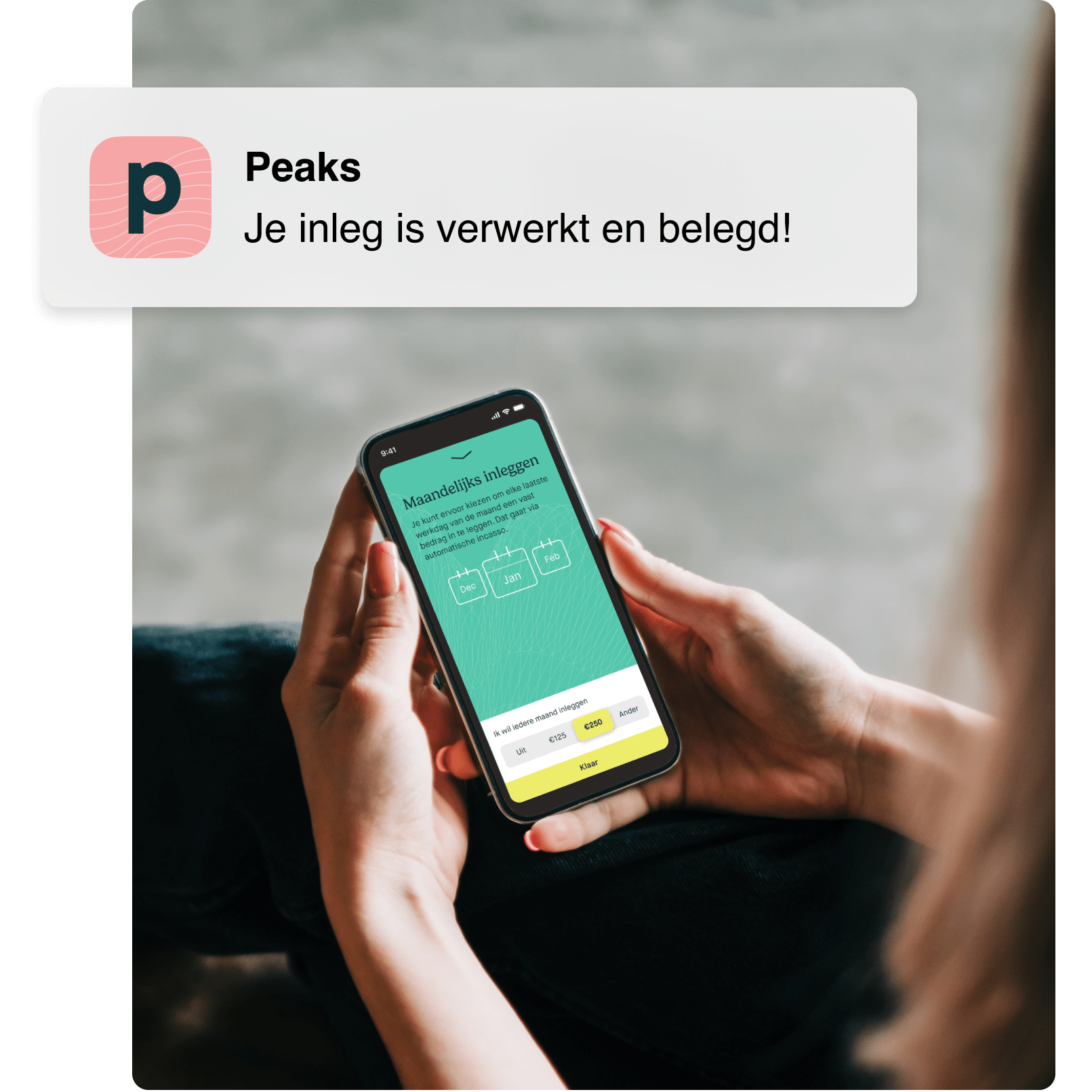 Choose one of our portfolios
Invest and withdraw without transaction fees
Peaks lets you build your wealth by regularly setting aside money and spreading your investments. You can deposit any amount you choose, either one-off or periodically, and you pay zero transaction fees to Peaks. 
Your money is always there if you want to withdraw. If you give us an order to withdraw your money today, you'll have it in your bank account within two working days, also with no transaction fees. It's the flexible way to invest that puts you in control.
Your professional, reliable investment partner
Professional
Research by the independent financial services provider Morningstar shows that index investing delivers better returns on average than actively managed investing in the long term. That makes index investing the smart choice.
Sustainable
The index funds in the Peaks portfolios are sustainable investments. This means that the companies in these index funds score highly in terms of their environmental, societal and governance (ESG) track record.
Reliable
We are a European-licensed and supervised professional investment firm.
Ready? Download our app
Start now and pay no fees to Peaks in your first three months.